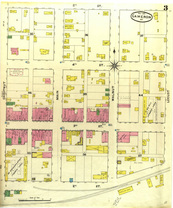 Rare Cameron Maps

Below are links to rarely seen historical maps of the Cameron and North West Missouri area. Some date back to the 1800s and
have remarkable detail.
---
---
McGlumphy 1921 Atlas

In 1921 W.H.S. McGlumphy created a Cameron Atlas. It contains diagrams and layouts of Cameron from it's busiest railroad years. Click the picture to see this great historic book.



1885 - 1913 Cameron Maps

The Missouri Digital Heritage website contains some maps that were never seen by the general public. They are Sanborn Fire Insurance maps drawn every few years from 1885 until 1913. Click the link below to go to a page full of links to all of the maps.


1876 Clinton County Atlas

A Clinton County Atlas, similar to a plat book, was published in 1876. Over 50 pages of great maps and information about the early days here are included. Click the picture below to go to the book on the Missouri Digital Heritage Website.


---
Clinton County's 1918 official plat book is also available on the Missouri Digital Heritage website. The copy used for this imaging must have been in nearly perfect condition and the image quality is remarkable.

Over 40 years after the 1876 Atlas was published, this plat book shows detailed improvements to roads including the "Jefferson Highway" and the "Sulpho - Saline" route. It also shows the location of small communities, schools, churches and family farms that prospered due to the railroads constant expansion and then disappeared almost as quickly when the railroads closed down.

Click the picture on the left to go to the high resolution online version of the 1918 Clinton County plat book.